ABOUT ROBERT KRISTOFF FINE ART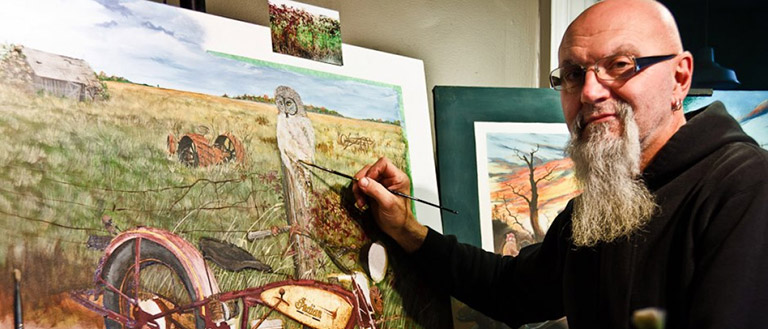 Robert Kristoff was born into a family of artists. His mother was a fashion designer in her early 20's and his father, a sign writer and painter. When he wasn't dodging bullets, Robert's father did a lot of nose-art on British tanks and bombers during his off-hours during World War II. From the time Robert could hold a crayon, he would draw whatever he saw… tractors, cars, machinery, animals, people, and scenery.
Entirely self-taught, without any formal art training- even when art class was offered in secondary school, Robert never took it as he thought he was taking up space of those who couldn't draw or paint. He didn't excel academically, but his notebooks were filled with drawings of cars and motorcycles.
The 70's saw Robert air-brushing murals on vans and custom painting choppers. Now returning to canvas and acrylics painting, Robert shows his love of motorcycles and combining them with wildlife. Robert enjoys the interaction between nature and man-made machines, and the rich colours and patinas of decaying metals.
Robert's favourite term is "Barn Fresh".